Communispond Appoints Scott D'Amico as President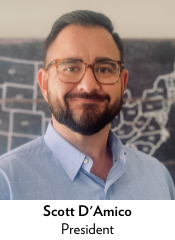 Communispond, Inc. the leading global communication skills training organization, has announced the appointment of Scott D'Amico as its new president. Bill Rosenthal, Communispond's owner, will stay on as CEO and strategic advisor.
D'Amico joined Communispond in 2017 as Vice President of Global Sales. In his role as President, he will have overall responsibility for sales, marketing, product, and logistics. Prior to joining Communispond, D'Amico held a number of sales and leadership positions in the education and training services space.
D'Amico said, "To lead an organization with such a strong team, impactful programs, and rich history is an absolute dream come true; especially with what we do to equip people with the skills needed to communicate effectively. Those skills are more important now than ever before."
Rosenthal added, "Over the past four years since joining Communispond, Scott has worked hard to implement changes to grow sales, model the skills taught in our programs, and bring creative ideas to the table. This promotion was a natural fit as Scott has continued to take on more responsibilities over the years."
Feel free to connect with Scott D'Amico: https://www.linkedin.com/in/scottdamico/
About Communispond
Since 1969, Communispond has helped more than 800,000 professionals worldwide improve their presentation, writing, sales, leadership, and interpersonal communication skills. Every Communispond program is designed to teach proven, practical skills that can be used immediately back on the job. For more information, please visit www.communispond.com and connect with Communispond on LinkedIn, Twitter, and Facebook.