Communispond® Celebrates 50 Years of Providing Professional Communication Training
Communispond Inc.
 celebrates 50 years of providing communications, writing, sales, and leadership skills training. Since it's founding in 1969, Communispond has trained over 800,000 people around the world—helping them achieve their business goals by communicating with clarity and power.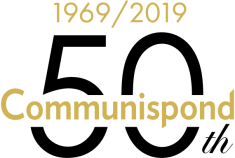 A few of Communispond's most popular training programs include Executive Presentation Skills®, Socratic Selling Skills®, Persuasive Dialogue™, Booher Strategic Writing®, and their premier offering—Executive Communication Coaching.
Kevin Daley founded Communispond in 1969 with the belief that the ability to communicate effectively and persuasively had a direct impact on the success of a business. To this day, Communispond still believes that every business challenge boils down to a communication problem and that, with their help, these problems can be solved by equipping employees with the skills to become effective communicators.
Prior to the founding of Communispond, Daley was a Vice President at J. Walter Thompson advertising agency. During his time there, he noticed that many of his colleagues lacked effective communication and presentation skills, especially when working with and presenting to their clients. He saw firsthand how deals were lost as a direct result of poor communication skills. In 1969, he quit J. Walter Thompson and founded Communispond.
After joining Communispond in 2004, Bill Rosenthal then acquired the company in 2009 and continues to operate as the Chief Executive Officer. Communispond has grown to include offices across two countries (the United States and the United Kingdom) and nine global partners in Poland, Australia, China, South Asia, Japan, Latin America, Korea, Philippines, and Thailand. Further supporting Communispond's global capabilities are their 75 facilitators located around the world. It is because of their global partners and faculty that they are able to provide consistent delivery wherever companies and their teams are located.
To commemorate Communispond's 50th anniversary, Rosenthal hosted a party for current and former employees, faculty, and clients on Saturday, March 29th, 2019. It was held at Inside Park at St. Bart's on Park Avenue in New York City, kiddie corner from the location of Communispond's very first office back in 1969. Kevin Daley was the guest of honor and delivered a moving speech.
"We give [people] something that lifts their sights—giving vision and faith in their own ability and help them get rid of the faults they might have as a speaker perhaps to be even better than they are. That's all we're doing", said Daley, during his speech. "We're not changing them; we're giving them access to the majesty that resides in them. That's all we do at Communispond. Because once you can bring that to the floor, you'll be so far ahead of the game that you'll be successful beyond belief."